Product Description
Details
ALUMINIUM FENCING PISTE
• FIE patented
• the lightes and thinnest 100 % aluminium
• unique and self-interlocking modular sections
Each piste is coming with an engraved FIE Serial number and related original FIE Certificate.
To assure silent fencing on hard surfaces and to potect floor from scratches, bottom of the section is glued with polyurethan layers.
packaging
total weight 1 piste ( net)
1 piste in one box (cm)
2 pistes in one box (cm)
3 pistes in one box (cm)
Piste WheelChair 4 x 1,5m
56 kg
-
-
175x105x50
weight of box (kg)
-
-
70
WHY ALUMINUM FENCING PISTES?
DURABLE
Aluminum is durable. If maintained carefully the pistes will last for many years. You will not have holes after first competition and electrical conductivity will not be harmed after a while.

NON-SLIPPERY SURFACE
Anti-slide surface is designed to prove optimum friction and maximum protection of fencing shoes

SHORT INSTALLATION TIME
Self-interlocking system of the sections allows you to lay down the whole piste in less than 10 min.

EASY TO SET-UPand NOT NOISY DURING FENCING
The bottom of the sections are totally covered with a soft material with very high friction coefficient, so that no extra fixing equipment is necessary and the floor doesnt get damaged either. On almost all kinds of floors piste stay there where you leave it. No fixing apparatus, no sticky bands, no holes on the floor.

NO CABLE MASS AROUND
You can hide the roller cables in the cable channels under the piste
Additional Information
Reviews
Product Tags
You may also be interested in the following product(s)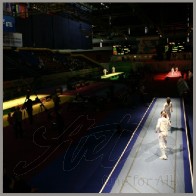 Incl. 19% Tax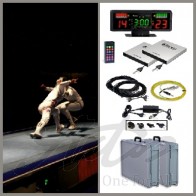 Incl. 19% Tax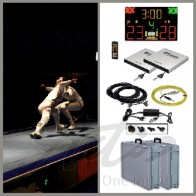 Incl. 19% Tax